Bacterial Mouth Infections: Cavities (AKA Dental Caries or Tooth Decay)
MOST OF US HAVE HEARD THE WARNING ABOUT SUGARY FOODS OR DRINKS CAUSING CAVITIES.  BUT THERE IS MORE TO THE STORY.
WE ALL HAVE BACTERIA IN OUR MOUTHS – MOST OF WHICH ARE NECESSARY AND BENEFICIAL.  HOWEVER, CERTAIN ELEMENTS ENTER THE EQUATION AND TIP THE FORCES OF GOOD AND EVIL (THE BACTERIAL KIND).
WHEN WE EAT OR DRINK SUGARY SUBSTANCES, THE BACTERIA IN OUR MOUTH CHANGES IT INTO ACID.  THIS ACID EATS AWAY AT THE ENAMEL OF TEETH, LEAVING SMALL HOLES THAT ARE VULNERABLE TO DECAY.
IF THESE CAVITIES GO UNTREATED, IT CAN LEAD TO SERIOUS PAIN, TOOTH ABSCESSES OR EVEN TOOTH LOSS.
Cavity Quick Fact:
CAVITIES ARE ALSO KNOWN AS DENTAL CARIES OR TOOTH DECAY
DEPENDING ON THE SEVERITY OF THE CAVITY, SYMPTOMS MAY NOT BE PRESENT.  HOWEVER, AS THE TOOTH DECAY INCREASES, SYMPTOMS WILL BE MORE EVIDENT.  SIGNS OF CAVITIES MAY INCLUDE:
Visible Holes or Pits in your Teeth
Pain When Eating or Drinking Something Sweet, Hot or Cold
Brown, Black or White Staining on the Surface of a Tooth
TOOTH DECAY OCCURS OVER TIME.  THERE ARE A NUMBER OF CONTRIBUTING FACTORS THAT LEAD TO CAVITIES, SUCH AS:
Inadequate Brushing & Flossing
ACCORDING TO THE MAYO CLINIC, WHILE ANYONE WITH TEETH IS SUSCEPTIBLE TO DENTAL CARIES, THE FOLLOWING FACTORS MAY INCREASE THAT RISK:
Consumption of Certain Foods & Drinks
Frequently Snacking or Sipping
Treatment
Treatment options for cavities depend on the severity of the decay.   In the early stages, fluoride treatments can help restore enamel and stop further decay.   If the decay has moved past the early stage of enamel-erosion, a filling may be necessary.  Crowns are used when teeth have extensive decay.  This custom-fitted covering will replace your tooth's natural crown.
Cavities that are more severe may need a root canal or a tooth extraction.  Root canals are implemented to repair and save an infected tooth.  If a tooth cannot be restored, it must be removed.
Prevention
Good oral hygiene is the best way to prevent tooth decay.  Regular visits to your dentist, brushing and flossing twice a day and after eating or drinking (especially sugary substances) and avoiding frequent snacking and sipping are just a few of the measures you can take.   Your dentist may also recommend using a fluoride mouth rinse, dental sealants, fluoride treatments or antibacterial treatments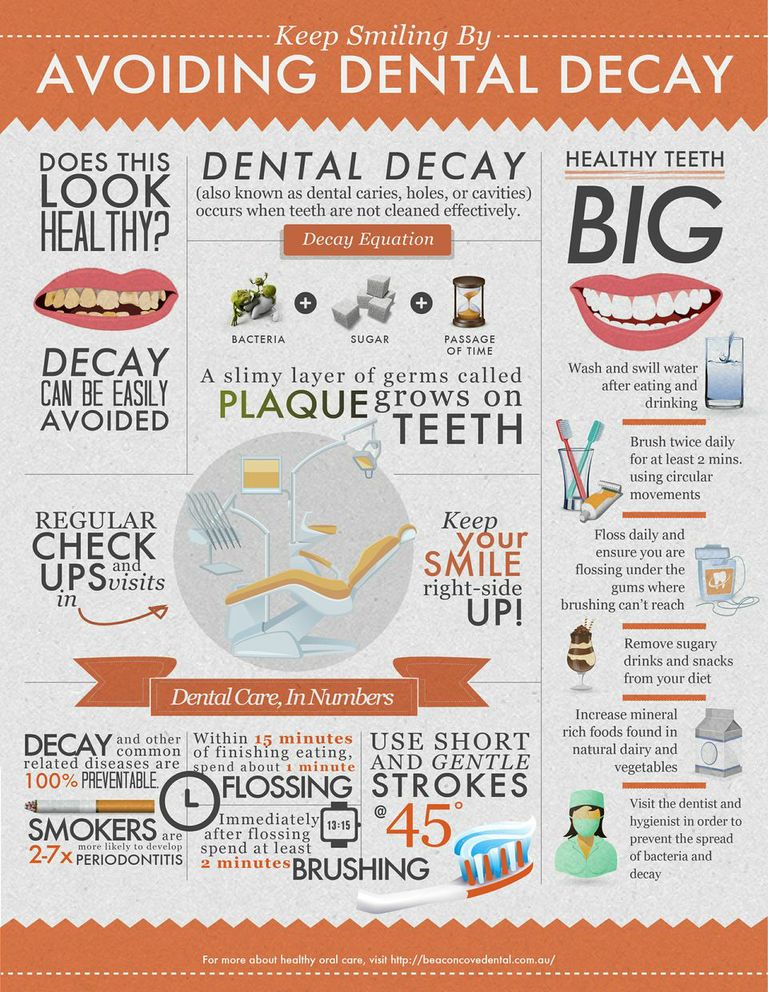 Source: healthresearchfunding.org