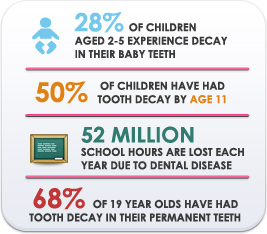 Why Screenings Are Important:
Tooth decay in children is the #1 chronic childhood illness. Left untreated, it can have serious consequences.  The best way to combat tooth decay is through prevention, including regular dental visits.

Dental screenings allow us to monitor the development of your child's jaw and their permanent teeth. This pro-active measure helps identify possible future dental issues.

Dental screenings allow us to teach and explain the importance of proper oral hygiene and answer any dental questions your child may have.
What's Included in a Screening:
Our team will evaluate your child's oral hygiene, eating and drinking habits, cavity risks and teeth and jaw development.

We will check for abnormalities such as inflammation of the gums, cavities, misalignment, enamel defects, abscesses, pattern of tooth eruption and chipped, broken, or missing teeth.

We will teach your child proper oral hygiene techniques and discuss nutrition tips to maintain healthy teeth.
Many people, especially children, have fear or anxiety when visiting the dentist. However, we work to gain the trust of our patients through friendly, gentle, and caring treatment.  This helps to create a more relaxed, anxiety-free environment.  Consistent visits, starting at an early age, also help to dispel fear and anxiety.  
For more information or to schedule an appointment, please contact our office at 770.251.6868.