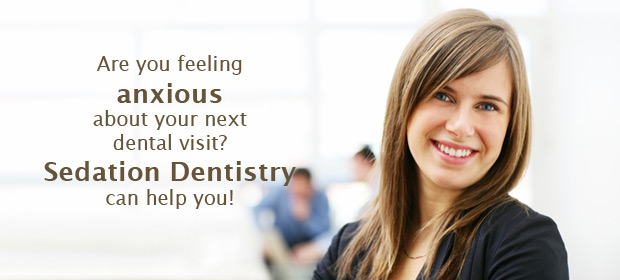 Sedation Dentistry Might Be the Solution for You!
We want to make sure that all of our patients have a positive experience – even those who are apprehensive or anxious about going to the dentist.  This is why we offer Sedation Dentistry.
What Is Sedation Dentistry and How Does the Process Work?
Sedation dentistry is a way to provide dental treatment for those who experience extreme fear or anxiety.  With the help of a small pill, patients can experience a relaxed and anxiety-free dental visit.  This minimal sedation is safe and effective, requires no IV, and still allows the patient to communicate.
Anyone interested in sedation dentistry can come in for a consultation with the dentist. This provides the opportunity for the patient to meet the dentist, learn more about sedation dentistry and discuss their treatment options.  Dr. Patel will also take the time to go over a variety of factors, including the patient's medical history.  There are a variety of sedation medications available, and this helps to ensure the right one is chosen based on each patient's needs.  Once a treatment plan is established, an appointment can be scheduled.
The sedation is as simple as taking one pill the evening before the appointment and one upon arrival at the office the morning of the appointment.  The patient will go into a relaxed state, but still be awake and able to communicate and follow directions from the dentist.  Patients have the ability to get the oral health treatment they need and will have little or no memory of the procedure afterword's.
---
Is Sedation Dentistry Right for You?
Do you avoid the dentist because of fear or anxiety?

Have you had a traumatic or painful experience at the dentist that still causes anxiety?

Do you suffer from dental phobia?

Do you need a complex dental restoration procedure?

Are you a patient who is sensitive to post-operative pain?
If you answered "yes" to any of these questions, sedation dentistry may be right for you.
---
There are Four Different Types of Sedation Dentistry:
Oral Sedation

This is the type of sedation offered at our office.  Patients can experience a calm, relaxed visit through the use of an oral sedative.

Nitrous Oxide

Also known as "laughing gas"

Oral Conscious Sedation

The combination of an oral sedative and nitrous oxide

IV Sedation

Patients are sedated directly into the bloodstream
Don't Let Fear or Anxiety Keep You From Getting the Care You Need! 
 To find out more about sedation dentistry.