Bacterial Mouth Infections: Periodontal Disease
If you are over the age of 30, there is a 50% chance that you could have periodontal disease.  This bacterial infection affects nearly 64.7 million adults in the United States, according to a study by the CDC.
Our mouths are naturally full of bacteria.  However, when proper oral hygiene and professional cleanings are neglected, this bacteria builds up in the form of plaque and tarter on our teeth.  According to the National Institute of Dental and Craniofacial Research, the longer plaque and tarter stay on teeth, the more harmful they become.
Gingivitis is the beginning stage of periodontal disease.  At this stage, the gums tend to be swollen, tender, bright red and tend to bleed easily. Gingivitis requires both professional dental treatment and regular at-home care.  When left untreated, it advances to periodontitis, which means "inflammation around the tooth."
Once gum disease has advanced to periodontitis, the gums will start to pull away from the teeth and create spaces that become infected.  Your immune system will naturally try to fight off the infection, breaking down the bone and connective tissue that hold your teeth in place.  Left untreated, your teeth's supporting structures are destroyed, causing loose teeth that will have to be removed.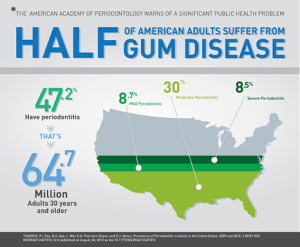 PERIODONTAL DISEASE QUICK FACTS:
Also known as gum disease

Men are More likely to have gum disease than women

Gingivitis is the beginning stage of periodontal disease

Pocket depth is the depth of the crevice around a tooth, measured in millimeters

A healthy pocket depth is between 1-3 mm.
THE FOLLOWING SYMPTOMS COULD INDICATE GUM DISEASE
If you suspect you may have gum disease, schedule an appointment with your dentist.   During your visit, the dentist or hygienist should check for signs of gum inflammation and measure the pocket depths around your teeth.  They will need an accurate medical history to identify risk factors or possible underlying conditions.  Additionally, they may take x-rays to see if there is any bone loss.
THERE ARE A NUMBER OF FACTORS THAT CAN INCREASE THE RISK OF DEVELOPING GUM DISEASE:
Hormonal Changes (puberty/pregnancy)
Treatment
Once you have been diagnosed with periodontitis, your dentist will recommend a periodontal treatment program to control the infection.  Treatment will vary based on the severity of gum disease.  However, all treatment plans will require keeping up with good oral hygiene at home and regular visits with your dentist.
Prevention
One of the best ways to prevent gum disease is by practicing good oral hygiene.  Brushing and flossing daily helps to remove the bacteria that cause gum disease, according to the CDC.   Regular visits to your dentist can help reduce the buildup of plaque and tarter as well as serve as an early-detection service of any warning signs.