to choose Newnan Dentistry
"As always, it was a very nice experience. Everyone is friendly and a pleasure to see all the smiling faces… like a visit with good friends!" – Jean S.
We truly care about our patient's comfort and happiness.  We seek to maintain an environment that is friendly, helpful and considerate of our patient's needs. By creating a welcoming environment, we hope to make our patients feel at ease when they visit-dispelling any anxiety they may have.
99.1% of patients would refer friends & family to us
Research has proven it to be true: The condition of your oral health is directly connected to your overall health.  Our mouths are naturally full of bacteria.  However, when proper oral hygiene and professional cleanings are neglected, this bacteria builds up in the form of plaque and tarter on our teeth.  The longer they stay on teeth, the more harmful they become.  Eventually, it causes the gums to start pulling away from the teeth, creating spaces that become infected.  Your immune system will try to fight off the infection by breaking down the bone and connective tissue that holds your teeth in place.  Untreated, this will lead to the destruction of your teeth's supporting structures and tooth loss.
However, your mouth and teeth aren't the only thing that suffer from the effects of Gum Disease.  Periodontal disease increases your risk of:
weakened immune system, diabetes, stroke, lung disease, preterm low birth weight babies, osteoporosis & gastric ulcer
Our team of skilled professionals can help patients identify possible health risks or conditions as they come in for routine dental care.
Newnan Dentistry is owned and operated by Dr. Rima Patel. While many of the dental offices in the area are corporately owned, we aren't one of them. Many corporate offices use incentives such as coupons with free services or advertise low prices to bring their patients in. The problem is, they often tack on surprise fees or push patients into unnecessary dental work.
By remaining a locally owned business, we can put our patients first. Our sole focus is not the number of people we get in the door or amount of money earned in a day. Instead, we focus on making sure our patients are well taken care of and their dental care needs are met satisfactorily.
Our team of dentists, hygienists, dental assistants, and patient care coordinators truly cares about our patient family.
4. Where Everybody Knows Your Name
Patients who regularly visit our office know that we are more than your typical dental office – we are kind of like family. We make it a point to get to know our patients and build lasting relationships. We want our patients to look forward to each visit and continue to choose us for years to come.
"Never thought that I would enjoy going to the dentist, but it feels like visiting family each time I do. I receive great, gentle care and attention."
Linda L.
"Wonderful group of caring and talented professionals ! My husband and I have been patients for at least 11 years and both of our children have been patients since their first checkups when they were about 2 or 3 years old. We can always depend on this group to provide an excellent level of service no matter the reason for the appointment."
Eric A.
"We rate Newnan Dentistry very high. The office is always very clean and the staff are friendly and very professional. Also I might add, the office is very conveniently located." – Jack P.
We are conveniently located in Avery Park, just off of Hwy 29 in Newnan – only a few minutes drive from Newnan's frequented shopping centers such as Ashley Park, Target, Walmart, and downtown Newnan.
6. Continued Education & Special Training
Technology is constantly improving – especially so in the world of dentistry.  That is why we believe in continuing education to learn new technology and techniques available for prevention, cosmetic enhancement and restoration of oral health.   Staying up to date means we can offer our patients the best care and knowledge possible.
We know your time is important and we do our best to minimize wait times.
We don't just schedule appointments – we reserve time for each patient.  That means that we don't overbook.  We take the necessary time with each patient for thorough care and we allot enough time for each procedure so that our patients aren't left waiting.
Plus, we have an awesome team who work together to schedule and treat patients efficiently. #BestTeamEver.
"Never have I been to an office that showed such great concern and care. The whole staff look's after the patient from the time you walk through the door till you exit. Punctual to the point I have never waited to see someone. I arrive and on the minute they call me back for my appointment." – Tyler D.
8. In-House Insurance Plans
We understand that not everyone has dental insurance – but we don't want that to stop them from getting the care they need! That is why we offer affordable annual in-house plans to cover the entire family.
Plans include a comprehensive new patient exam, necessary x-rays, 2 regular cleanings, periodic 6 month exam, oral cancer screening, periodontal evaluation, oral hygiene instructions and Fluoride treatment for children under the age of 12. Also includes 20% off procedures (excludes certain procedures).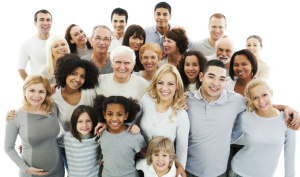 We care about our community. But that's not just something we say, it's something we demonstrate through actions. While we have always participated in giving to local charities, in 2014, we started becoming more actively involved in fundraising events for local charities.
However, in 2015, we want to do more! Not only are we sponsoring many of the local charities in our community, but it is our goal to inform the community about the connection between oral health and overall health. Why? Because we want a healthier community.
We are also becoming a drop-off for two of the local food banks in the area: Salvation Army & Bridging the Gap. We encourage our patients (and non-patients) to drop off canned goods that we will personally deliver to the food banks. In this way, we want to help fight hunger in Coweta County.